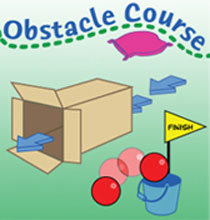 An obstacle course is a fantastic way to get the kids to have fun, but also it burns some of their energy, which is always a good thing! It does take some more planning on your part, but it's definitely well worth it. Note : You don't necessarily have to have an obstacle course outside. If it's a winter party and you're stuck inside, you can still make an obstacle course in the house (if you can handle the noise, that is).
Tips and Ideas For Making an Easy (but Great!) Obstacle Course:
Laundry baskets are great for making a station in an obstacle course. You can fill them up with other things you have around the house, or you can flip it over and make it a jump (or climb or step) over obstacle.
Use balls (or pillows!) and have the kids throw it up once and catch it.
Use sticks that have fallen from trees to make an outline of an obstacle.
Place a pitcher of water along with a few cups and have the kids transfer the water from the pitcher to the cups.
Cut holes in a piece of cardboard and make foil balls. The obstacle – throw the balls through the holes! (Make the holes fairly large)
Hoolah Hoops and jump ropes make great stations.
Bikes, skateboards, scooters, roller blades – all great obstacles. They don't even need to know how to ride any of them…just pick it up and lay it back down. Or jump over them. Or put them on and take them off. (Skateboards are great for scooting on.)
Cardboard boxes make great tunnels.
How about a shoe tying station?
You can make an obstacle course out of anything. If you see it laying around then it can be used. You can time the kids, team them up, or have them do it individually. The sky really is the limit when creating an obstacle course for kids. Once you get the ball rolling, you'll start to think of things you may never have thought about using. Keep your eyes wide and your mind open, and you'll be up to your eyeballs with ideas for homemade obstacle courses in no time!
If you found this post helpful, please share it with the buttons to your left or below so others can enjoy it as well!)
Happy Birthday Party planning!
*To get more kids birthday party ideas and kids birthday party games, click on the links below.
Simon Says | The Balloon Ping Pong Game | Obstacle Course Ideas | Charades for Kids | Printable Bingo Cards for Kids
Image credit : Juicy Juice