Balloon Ping Pong is a great game to play at birthday parties. Not only does it give the kids a fun activity to do, it also incorporates an awesome craft idea (which of course keeps the kids occupied for longer, getting you that much closer to peace and quiet!)
How to Play Balloon Ping Pong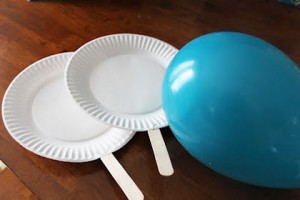 What you need:
Paper plates
Craft sticks (the big ones – think tongue depressor size)
Glue or tape
Crayons, markers or paint
Anything else you want to let the kids decorate with (glitter, streamers, etc.)
A bag of balloons
Set the kids down where ever you have chosen to be the craft table. Have them decorate the paper plates any way they want. They can also decorate the handle if they really want to get into it.
After the decorations have been completed, glue or tape the paper plates to the craft stick. Their own ping pong paddle has just been created! (If you are using glue, it's a good idea to let the glue dry before playing…you could have some very sad kids if their paddle breaks in the middle of the game.)
Blow up a few balloons. The rules of the game are simple – don't let the balloons touch the ground!
Other tips and ideas for Balloon Ping Pong
Decorate the balloons with marker or use different colored balloons and give each balloon a different point value. For example, if the red balloon touches the ground, everyone has to do 5 jumping jacks, but if a blue balloon touches the ground, everyone must freeze for 10 seconds.
You can do an organized game of ping pong, or just let the kids go at it. The kids will have a blast just trying to keep the balloons off the ground, but if you think the kids may do a little better (and you'll keep your sanity) with more of an organized game, play it that way.
If you have to let the ping pong paddles dry, make sure you have an activity for the kids to do while they wait. Otherwise you're going to get an earful of "are they dry yet?" and "can we play now?" Just a word to the wise.
This game can be played inside or outside. Obviously if you play inside, make sure all breakables are out of the way…it's likely to cause a bit of a ruckus.
You can make up as many rules as you want. Use your imagination, and get the kids involved with deciding on the rules (or not).  This game will provide at least a couple of hours of fun, so you can relax soon enough!
If you found this post helpful, please share it with the buttons to your left or below so others can enjoy it as well!)
Happy Birthday Party planning!
*To get more kids birthday party ideas and kids birthday party games, click on the links below.
Simon Says | The Balloon Ping Pong Game | Obstacle Course Ideas | Charades for Kids | Printable Bingo Cards for Kids