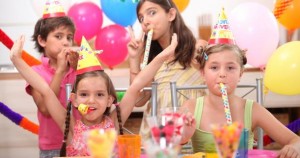 Throwing a birthday party for children is nothing short of work. A LOT of work. The idea seems innocent enough, but when you factor in all the extra stuff you have to make sure you take care of (goodie bags, food, decorations, etc) it just takes it's toll on us.
Below are some birthday party ideas for kids that will hopefully give you a little bit of relief from the overwhelming panic feeling that will surely creep it's way into your day at least once. 😉
Birthday Party Ideas for Kids
Clearly there's the obvious choices, like bowling, or Chuckie Cheese (and other places that offer kids birthday parties). I love these options because it really does simplify our life. You call and schedule the party, and they take care of the rest. Of course the easier it is on us, the more expensive it's going to be. Most places have different party options, like do you want to include the invitations and food in the party, and some even include goodie bags for the guests (of course for a larger fee.) Depending on how many kids you are inviting to the party will greatly depend on what party package you choose. But…duh. That's common knowledge.
Other birthday party ideas you could do is let your child invite a few friends over from school and have the party at home. If you don't feel like dealing with an entire class this may be the option for you. You can find arts and crafts, or even do a theme party for your child. You don't even have to go overboard with it. For a kid, if there's cake, ice cream and presents…it's a party.
Playing games at a birthday party is something that can be done easily, and the kids always end up having a blast no matter what games you play. You can get some great and easy game ideas here : Kids Birthday Party Games
Giving out gift bags (or goodie bags) isn't necessarily necessary…but it is something that every kid looks forward to when attending a birthday party. The dollar store and even Target or Walmart have their dollar section…you can get some very cheap and inexpensive goodies to put in the bags for the kids.
Tip : If you have a younger audience (kids between the ages of 1-3), I always like to give out the goodie bags when my child is opening presents. It seems to have keep the kids occupied and eliminates the need for other kids to want to open the presents. It really made it easier for present opening.
Don't beat yourself up over ideas. You don't need to overdo it. The party will turn out great and the kids will have a good time no matter what you do. I promise.

If you found this post helpful, please share it with the buttons to your left or below so others can enjoy it as well!)
Happy Birthday Party planning!
*To get more kids birthday party ideas and kids birthday party games, click on the links below.
Simon Says | The Balloon Ping Pong Game | Obstacle Course Ideas | Charades for Kids | Printable Bingo Cards for Kids