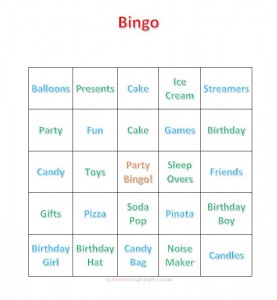 Bingo is such a fun game to play at kids birthday parties. Every kid loves playing bingo (and really, what adult do you know who doesn't?) Below are instructions on how to play Bingo at a kids birthday party. Also, here's some good news –  you can print the bingo cards directly from here – for free (because that's what we do!)  The only thing we ask is that you share this page before you leave.
(To print the cards, scroll down to the bottom of the page. You'll find the print option there.)
Set Up:
Be sure to print off enough bingo cards for each child who wants to play – each child will need a different card)
Don't forget to print a "master card" for the bingo caller – generally this will be yourself.
Cut your copy along the individual bingo squares
Place the cut squares into a bowl or something you can easily draw from.
M&M's or Hershey Kisses are great for game markers – and the kids can eat some too!
How to Play:
Set the kids up with one card and a stash of game markers (make sure you tell them not to eat them all – they need to use them for the game!)
Draw one square out and read it out loud to the kids
If the square says "party", all children who have "party" on their card will cover up any square with a game marker
Draw another square, and repeat the process
This continues until someone fills in a row (vertically, horizontally or diagonally) and yells "BINGO!"
The winner gets a prize (in some cases, there MAY be more than one winner for each game. Just make sure you have a few extra prizes on hand just in case)
If you have more than 20 children playing, that's okay. Just print out as many bingo cards as you need. If you end up using duplicate bingo cards, there will be more than one winner for each game. And really…that's okay. Kids just like to yell "Bingo!"

To print the free bingo cards, just click on the link below, or the printer image below. This will open up the cards and instructions in a PDF document. From there, you can simply click "Print", or you can save it onto your computer to print them later. (You'll also always have them on your computer for any future uses you may need. Who knows – Bingo may become a household tradition for your family!)
Tip: Print them off on card stock. They look nicer and hold up better!

Printable Bingo Cards for Kids – Print Now
If you found this post helpful, please share it with the buttons to your left or below so others can enjoy it as well!)
Happy Birthday Party planning!
*To get more kids birthday party ideas and kids birthday party games, click on the links below.
Simon Says | The Balloon Ping Pong Game | Obstacle Course Ideas | Charades for Kids | Printable Bingo Cards for Kids